Nearly every industry is witnessing the launch of new businesses after COVID-19. So, finding your niche in a competitive market might be difficult. It's not always wise to try to compete based purely on pricing. Instead, success can be achieved by emphasizing the client relationship and providing individualized service. Commercial bulk printing projects like business cards, posters, direct mail, and the like may appear antiquated considering the proliferation of digital marketing.
However, a well-designed marketing brochure can still be effective in this digital age for many businesses. Having professional-grade commercial printing done is an excellent investment since it increases your chances of making a sale, keeps your current customers happy, and brings in more money.
But why should you use a commercial bulk printing firm instead of printing the papers yourself?
7 Ways Commercial Bulk Printing Can Help Your Business
Here are seven ways commercial bulk printing can help your business.
Cost-Effective Marketing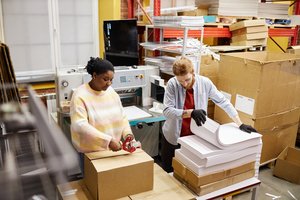 While it may appear cheaper to print your documents in-house initially, doing so might quickly become prohibitively expensive if you need to print in bulk. When you hire a professional commercial bulk printing service, your marketing materials are of superb quality and, in turn, more effective.
Good marketing collateral is the best long-term investment since it increases the number of customers converted per unit of marketing expenditure. Potential clients are more likely to purchase if the process is made easier by innovative print marketing techniques.
Enhance Brand With Quality Printing
First, if you need high-quality prints for your business, you should use a commercial printer. After all, if your marketing materials are blurry, drab, and misaligned, you can't expect to wow potential clients and customers.
Second, your brand is reflected in the quality of your printed materials. People's impressions of your business and its offerings are bound to be positively influenced by the quality of the materials you provide.
However, if your business card color is incorrect or the brochure folds aren't precise, they may question whether they can trust your organization.
There are checks and balances in place at commercial printers to guarantee customer satisfaction. You may expect professional results because they employ high-quality ink, paper, and printers.
Leave Great First Impressions
Well-designed products made on commercial bulk printing equipment are of high quality because of their careful design and construction. Your promotional materials' quality is sure to increase when you use one of these printing services.
A printing and marketing company has the letterpress equipment and sheetfed presses necessary to produce a small run of business cards with specialized finishing or a large run of posters.
Boost Sales With Bulk Printing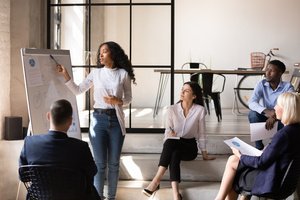 One of the primary advantages of commercial bulk printing is that commercial printers can process large orders with ease. Commonplace office printers can't keep up with print jobs of that magnitude.
Producing thousands of copies of sub quality flyers, brochures, or menus is terrible. If you don't have access to a commercial printer, it's wise to get in touch with bulk printing company.
Do More With Fast-Turnaround Time
A combination of a home printer and a photocopier machine will not only result in inferior quality, but, it will also increase the time it takes to complete the project.
With digital printing, superior customer service, in-house resources, and high-quality machinery, a commercial printer can shorten the time it takes from the initial concept to the finished product.
Quality commercial bulk printing is readily available and can be utilized by any business immediately, allowing for quick turnaround time on printed products. More than that, your employees will have more time to focus on other projects.
Market Better With Ready Inventory
One or two large orders per year can meet your printing needs at a fraction of the usual cost. Having a stockpile of printed materials ensures you'll never be in a pinch and forced to order more expensive ones in lower quantities in the middle of a run.
Ordering stationery on an as-needed basis is inconvenient, time-consuming, and expensive due to the difficulty of keeping track of stock levels. It can result in supply issues and company disruption that worsens the problems further.
Instead, business owners can save time and money by outsourcing their bulk printing needs to a stationer, giving them more time to focus on what they do best – running their company.
Increase Engagement With Custom Size Options
One more perk of commercial bulk printing is its flexibility in terms of print size. A commercial printing press can produce everything from massive banners to tiny business cards for distribution to customers.
A commercial printer can access all the resources needed to print anything. In this approach, you may pique the interest of the broadest possible audience and boost participation.
Personable Printing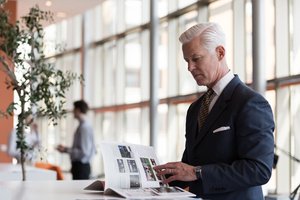 Companies use their websites, social media, and paid advertising to ensure that their brand remains prominent in the minds of consumers.
When you include printed stationery in your marketing strategy, you expand your capacity for personal, memorable engagement with your target audience.
Putting your message in print is great for reaching out to your customers. Numerous advantages can be gained by organizations of any size when working with the correct commercial bulk printing partner.
Are You Looking for a Top-Notch Commercial Bulk Printing Service?
Professional Graphics has various printed materials available to cater to your customers' preferences.
Choose from a large selection of high-quality products, including labels, custom packaging, color printing, stock certificates, package printing, brochures, business cards, and more.
Visit our website or contact us now if you have any questions about our commercial bulk printing service or would like more information about our extensive catalog.