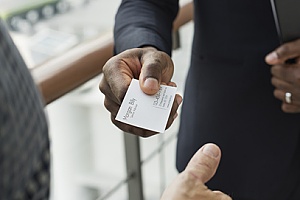 Business cards represent one of the most common ways of giving others a strong first impression of yourself and your organization. They are an essential networking tool that can help you form partnerships (some of which can ultimately be long-term) with potential suppliers, vendors, and customers. Regardless of whether your company is new or has been operating for years, custom business cards — when created with care — can pique other people's interest in your business in surprising ways. Here is a close look at custom business cards and their benefits.
Customizing Business Cards To Best Represent Your Brand
Business cards can take all different sizes, shapes, and colors and be made out of different types of materials. Here are some specific examples of custom shapes for business cards:
Slim: Sleek and small, this is ideal if you want a minimalist design.
Rounded corner: This is a subtle yet elegant way to stand out.
Square: Also a small shape that is perfect if you don't need to include much text.
Folded: Offers additional space for text and graphics while remaining stylish.
Oval: A unique shape that can quickly catch people's eyes.
Leaf: An environmentally-friendly option that is great for sustainability-oriented businesses
Round: An excellent fit for brands with circular logos and designs
Half-circle side: A square shape with rounded corners on one side, this is also a unique shape.
You can also laminate business cards or add a protective high-gloss ultraviolet (UV) finish for them. Business card thickness is generally expressed in "points," (pts) with higher numbers representing thicker cards. Although the standard thickness for business cards is 14pt, this figure can vary depending on the type of paper.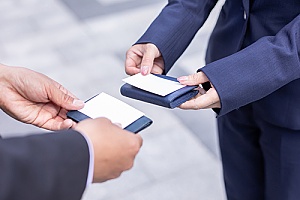 Additionally, you may wish to consider the industry your business is in when weighing the design for your business cards. If you own a flower shop, bright colors and intricate designs are an excellent idea for your custom cards. If you manage another type of retail business, such as a hardware store, darker colors and a more discreet design may be more appropriate. It also may be most economical for you to order your business cards in bulk. If the printing company you have chosen offers the option of picking your cards up at your nearest store, this may also help you save money.
Get Custom Business Cards Printed With Professional Graphics Inc.
Reach out to the professionals at Professional Graphics Inc. to have your custom business cards printed in bulk. Since 1979, we have been dedicated to providing high-quality commercial printing at competitive rates. We use modern equipment and always deliver our services on deadline and according to your budget. Call Professional Graphics Inc. today at (203) 347-0215 or request a quote online for more information about our work.