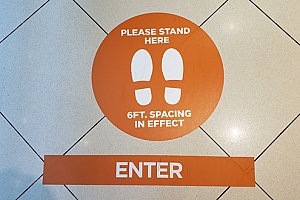 Business decals are often used by store owners and other small business leaders. Decals serve as a highly effective way to invite customers into your shop. Regardless of the primary reason for which you intend to use window decals, this type of promotional tool can help your business grow immensely.
Business Decals Characteristics
Decals are notably different from other marketing materials because they do not utilize any type of adhesive. Therefore, they can easily be repositioned. Additionally, they can be placed on any glass surface, not just windows (walls, floors, ceilings, etc.). Wall decals shouldn't completely disappear in the room, however. Decals come in multiple different sizes (e.g. 3" x 4", 24" x 36") and are typically printed on either perforated adhesive vinyl material or on 8 mm window cling, which can be either white or clear.
The latter type of window cling is popular because it helps give decals a cleaner, more contemporary look. Clear decals allow passersby to see your business's interior through the window. If you are looking to add a small logo, catchphrase, or another simple tagline, clear window clings will likely be your best option. If you wish to add a more complex design (with a solid background) to your decal, then white window clings will be more appropriate. Meanwhile, perforated adhesive vinyl helps control heat and light but does not block them out entirely.
Setting Up Transparency
A commercial printing company will typically provide you with several options for making your business decals transparent (e.g. how much transparency you wish to have, which areas you prefer to be clearer). Keep in mind that if your design includes small fonts, it may not be a sound idea to make everything transparent, as this will make your text difficult to read.
Decal Position: Inside or Outside?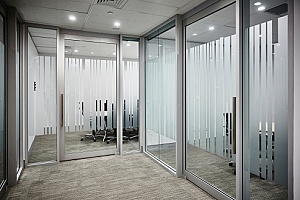 The viewing direction of your decals depends on how you wish for them to stick to your business's surfaces. For the "viewed inside" option, special static cling technology would be installed on the back of your decal. For the "viewed outside" display, this material would be applied to the front of the decal, where the design is. If you wish to have many decals, most printing companies can ship them to you in bulk. Certain package deals may even allow you to save money on this business expense.
Get Business Decals Printed With Professional Graphics, Inc.
Reach out to the specialists at Professional Graphics, Inc. to learn more about the process of having your business decals printed. Since 1979, we have been dedicated to providing high-quality commercial printing services at competitive rates. We use modern technology and always deliver our services on deadline and according to your budget. Call Professional Graphics Inc. today at (203) 347-0215 or request a quote online to request an appointment or for more information about our services.