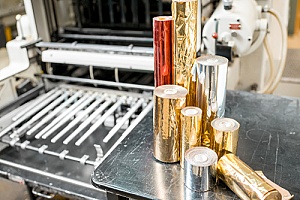 In the finishing and binding business, foil stamping is a process that involves pressing a design or another type of image onto a surface called a substrate. Modern-day foil stamping, which was first introduced in the late 19th century, substituted an earlier operation called bronzing, which consisted of printing and dusting a sticky-drying ink known as a size to create the illusion of metallic printing. When this is done to serve a business, it is known as commercial foil stamping. This process can help give your designs a clean, professional look. Here is a close look at foil stamping and how it works.
How Does Foil Stamping Work?
During foil stamping, a heated die (metal plate or block) that contains a raised image called a relief presses down on a piece of foil that passes above the substrate to be decorated. Examples of materials that are typically foil-stamped include paperback books and hardcover book jackets, as well as many types of packaging. Foil often comes in multiple different sizes, colors, and textures. For example, holographic foil creates a "3D rainbow" pattern similar to the one found on credit card chips, while scratch-off foil is removed by scratching, as its name indicates (scratch-off foil is perfect for momentarily obscuring information that is unveiled later, such as raffle ticket numbers.) Foil stamping may also be performed concurrently with embossing, which is another process that consists of carving a design so that it stands out in relief: this is called foil embossing.
Benefits Of Foil Stamping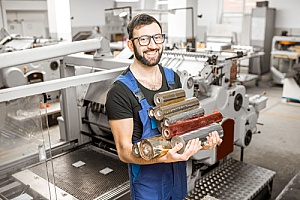 The reality is that a dull finish on the surface of any printed material will rarely spark interest or engagement from customers. Therefore, you should consider foil stamping for your business. This process yields a metallic finish that can help your shop stand out in bold new ways. Here are other more specific advantages of foil stamping:
Versatile method for improving packaging
Complements other printing processes
Eco-friendly form of embellishment
Additionally, it's essential to always clearly express your business's needs and objectives when seeking a company that can provide you with foil stamping services. The cost of foil stamping generally depends on the total number of materials you wish to stamp and the type of foil you choose to utilize, among other factors. In certain cases, ordering foil stamping services in bulk may ultimately save you money.
Get Your Materials Foil-Stamped With Professional Graphics Inc.
Reach out to the specialists at Professional Graphics Inc. to learn more about foil stamping. Since 1979, we have been dedicated to providing high-quality commercial printing, binding, and finishing services at competitive rates. We use modern technology and always deliver our services on deadline and according to your budget. Call Professional Graphics Inc. today at (203) 347-0215 or request a quote online for more information about our work.