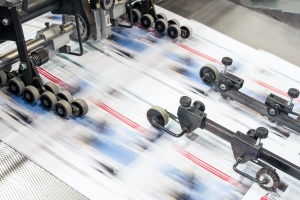 Offset printing was developed in the late 18th century and revolutionized the printing process. Before offset printing, artwork could only be reproduced through a long and strenuous alternative process, and offset printing allowed for a precise and efficient way to reproduce beautiful designs. Commercial offset printing is still a wonderful way to add style to your company or organization's promotional material.
What Is Commercial Offset Printing?
Offset printing involves applying an image to the material (generally paper). The process involves creating the desired image, transferring the image to a rubber blanket and finally applying the blanket with the image to the paper. Commercial offset printing, in particular, refers to offset printing that occurs in large quantities or on an ongoing basis, generally for businesses or organizations.
How Commercial Offset Printing Works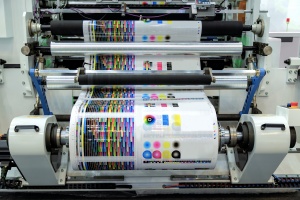 Offset printing is recommended to create all kinds of materials. Although there are numerous possibilities, at Professional Graphics Inc., we can create the following with our offset printing technology:
Brochures
Pamphlets
Sell sheets
Pocket folders
Inserts
Envelopes
Full-service bindery
Commercial offset printing takes place in three steps. The first step is to create the printing plate. This can be done with different materials, ranging from paper to aluminum. Each of the four colors used has its own plate (Cyan, Magenta, Yellow and Black). With these four colors, we can make any other color we need. The second step is to feed the finished material through the printing press. The third and final step is bindery, during which we create the books, brochures, pamphlets or whichever type of material you are interested in making.
The Benefits Of Commercial Offset Printing
Offset printing allows us to print large quantities quickly. This works well when creating books or fulfilling a large order of brochures and other promotional materials. Offset printing also allows you to customize your order as you desire. We can use different types of material based on your design goals and preferences and have a range of color possibilities.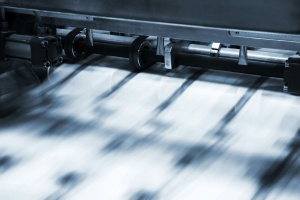 Commercial offset printing is also cost-effective. The more you print with us the less expensive the price per piece becomes. When choosing Professional Graphics Inc., you get to work with an experienced team that has learned how to produce high-quality results through offset printing. We also work with our clients long-term and take the time to understand their needs to ensure they are able to receive their orders in a timely manner and with reliable and high-quality results on every order.
Get Started With Professional Graphics Inc.
If you are ready to create beautiful promotional material through commercial offset printing, then reach out to our team by phone at (203) 347-0215 or request a quote online. Our experienced and professional staff can answer your questions and ensure your vision is brought to life. We take pride in helping those within our local communities achieve the promotional material they desire. If you are unsure if commercial offset printing or another type of printing is right for you, our team can explain the pros and cons of each option and make a recommendation based on your goals, needs and preferences.