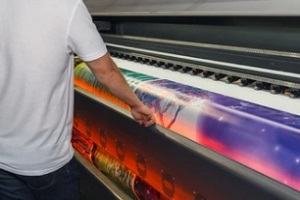 Large-format printing is a complex and nuanced process. This is why it is important to utilize the skills and expertise of printing professionals who have experience in this industry. Professional commercial sign printing can provide a clean product at an affordable cost for businesses that need large signs printed at scale.
In addition, these services include access to a professional team to bring any of your large-format ideas to life. But how can these services help boost sales? As it turns out, commercial printing can both save your business money and help increase your bottom line. Read on to learn about some of the advantages of bringing on a team of printing professionals to carry out your printing needs:
What is Commercial Printing?
To start, let's discuss the basics of commercial printing. Commercial printing provides businesses with access to printing professionals who can handle printing projects of any type and size. Their extensive knowledge of best practices and costs associated with production can help any company save money when it comes to producing high-quality materials.
The process of working with a commercial sign printing company begins with communicating with the printing team the needs of your next project. This includes describing the overall plan and style of the piece that you are requesting.
The printing experts then start working to create the piece, ensuring that graphics are as precise as you need them with the ideal color and image quality. Depending on the type of project (for example, the coloring, materials, and use case), the printing professionals determine the most cost-effective method that will not sacrifice the quality you need. There are a variety of options available that have unique advantages. Once the team has the graphics ready to print, they begin the printing process.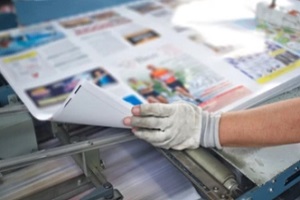 Professional printing companies can craft a range of different materials that include:
Custom posters
Banners
Indoor/outdoor signage
Office graphics
Marketing materials of any kind
How Commercial Printing Improves Sales
Commercial printing services not only work to save business time and money, but also helps them increase revenue and improve their branding. Here are some of the ways in which commercial printing services improve sales:
Maximize Efficiency
If your business is going to run efficiently, it is critical to ensure you are reducing the time and effort it takes to complete tasks without sacrificing the quality of your products. In the business world, printing is commonly an outsourced task. Outsourced printing services can help you with any type of printing you may need, while ensuring you are not wasting resources on an expensive in-house printing department.
By freeing up the time it usually takes to do these tasks, you'll have more time and budget to focus on the game plan behind your materials and how you want them to be executed. Leave the printing process to the pros!
Reduce Overhead Costs
Another important benefit of commercial printing services is the massive savings businesses can receive by not wasting resources on developing an in-house printing department. Handling all of your printing needs in-house comes at a significant cost. You need top-quality tools and a team that understands how to use and maintain them properly, all of which can be very expensive for an organization.
With a commercial printing company, these costs disappear. These companies can provide any printing method or medium you can dream up and will execute it to perfection each time.
Improve Marketing Effectiveness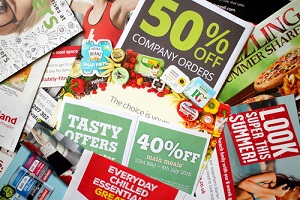 Improvements to efficiency and quality results in an equal improvement to the effectiveness of your marketing campaigns. As your material quality improves and more time is freed up to focus on marketing, the more efficient your campaigns will be. Better marketing campaigns lead to a higher return on investment and a better bottom line for your company.
Get Started With Commercial Printing Services
Overall, commercial printing is a great option for businesses that want to maximize the quality and scale of their printing projects at the best possible cost. Choose a sign printing company you can trust. Professional Graphics Inc. is a full-service commercial sign printing company that strives to take the stress out of the printing process for businesses. Reach out to us online to get started with commercial sign printing services today.