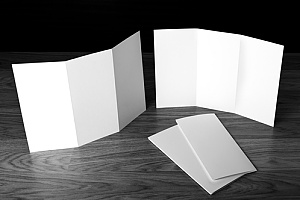 Brochures represent one of the traditional marketing strategies that businesses use to promote their products or services. They can be displayed at your business's office or distributed at trade shows or other events. Here is a close look at the different styles and sizes for business brochures and why this type of informative printed document is so effective.
Types Of Business Brochure Folds
There are three standard sizes for business brochures:
2-fold: 8.5" x 11"
3-fold: 8.5" x 11" and 11" x 17"
4-fold: 8.5" x 14"
However, some printing companies offer custom-sized brochures. You should choose the size of your brochures based on your desired content and layout. Do you prefer to have text or images to stand out? This is one of the many questions to keep in mind when making decisions regarding brochures. Here are some ideas for the best uses of each format.
2-Panel Brochures
Commonly known as bifold brochures, this fold is an excellent choice for short business presentations. Each half can display one or two products or services.
3-Panel Option
This format lets your target audience absorb your business's key details in a sequence. This fold is great because it allows you to fit a significant amount of information in a relatively compact space. If you can divide your business's products or services into three categories, the 3-panel brochure is likely your best option. There are several folding styles for 3-panel brochures, including the traditional trifold, the z-fold, and the gatefold.
4-Panel Format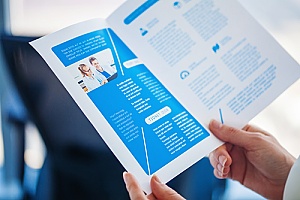 Four-panel brochures can be folded four different ways: the accordion fold, the double parallel fold, the French fold, and the parallel map fold. The accordion method is similar to the z-fold but with four panels and is perfect for daily schedules. The double parallel fold is typically printed on large paper and is ideal for forms that customers must complete. The paper folded in half and then again perpendicularly to the first fold for the French fold. If you wish to include full-size photographs or large-scale promotional pieces in your brochure, this is the best option. Finally, parallel map fold features four vertical panels that are directly adjacent to each other when the brochure is completely open.
Regardless of the format and folding style you choose for your brochures, it's also important to select the correct printing material and an appropriate weight for them. A printing professional can help you determine this.
Contact The Commercial Printing Professionals
Reach out to Professional Graphics Inc. to learn more about the different types of business brochures. Since 1979, we have been dedicated to providing high-quality commercial printing services. We utilize modern equipment and always deliver our services on time and according to your budget. Call Professional Graphics Inc. today at (203) 347-0215 or request a quote online for more information about our work.