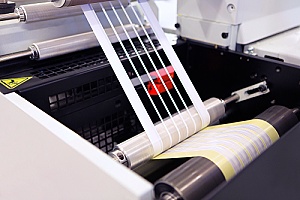 Die cutting is a finishing process that dates back to the mid-1800s and that involves the use of knives or sharp steel rules to create a precise pattern into a surface called a substrate. This operation is often utilized to cut flat printed material into boxes or packages that will eventually be assembled. Additionally, certain die-cutting tools crease and score (stamp to indicate the position of folds and simplify the making of them) the substrate. When this process is performed to serve a business, it is called commercial die cutting.
How Does Die Cutting Work?
Die cutting is typically done using a steel-rule die, which is an assortment of metal blades placed on a plywood dieboard. In order to cut the pattern into the plywood, a jigsaw is utilized and the blades or rules are then inserted. Then, rubber — or another type of release substance — is introduced between the substrate and the blades. The entire fabrication is consequently pressed down onto the substrate, which the blades cut into.
Die cutting machines, which can be manual or digital, are generally around the size of a small toaster and come in different styles. Manual machines normally have a lever or crank. Certain types of die cutting, such as flatbed die cutting, are best suited to thick and heavy materials such as fiber, felt, and fabrics. (Hydraulic presses are often used for flatbed die cutting.)
Benefits Of Die Cutting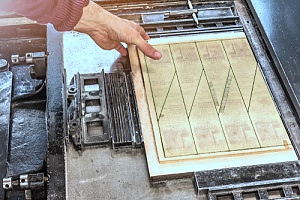 Die cutting not only makes your cut-out designs appear more professional, but it also saves you substantial time. This process allows you to create a shape repeatedly without the use of stencils or scissors, which are not as accurate. For example, rotary die cutting, which uses a cylindrical die, also provides flexibility, is fast, and is often cost-efficient. (This process is ideal for cutting paper, film, vinyl, and foam, among other relatively thin materials.)
More generally, die cutting helps improve a material's overall aesthetic and can thus attract more customers to your business. Some materials can even look three-dimensional and thus appear interactive. Whether it's used to cut a book cover or another object, die cutting will help make your materials more compelling than ever before. Simply be sure to always clearly communicate your business's needs and goals when seeking a company to perform this service for you.
Get Your Materials Die-Cut With Professional Graphics Inc.
Reach out to the specialists at Professional Graphics Inc. to learn more about the many benefits of die cutting. Since 1979, we have been dedicated to providing high-quality commercial printing at competitive rates. We utilize modern equipment and always deliver our services on deadline and according to your business's budget. Call Professional Graphics Inc. today at (203) 347-0215 or request a quote online to learn more about our work.