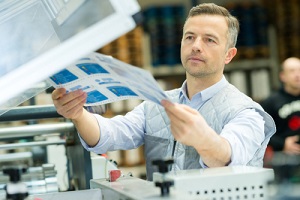 Finding the right commercial printing company for your business's needs is not an easy task. There are some important factors to take into consideration before deciding on a company to do business with.
A great commercial printing company can be the difference between a productive and efficient working relationship and a clunky and overpriced experience that leaves your printing needs unfulfilled. Let's take a look at what to look for in a great commercial printing company:
Experience
An experienced printing company will have more depth of knowledge in their industry. If the printing company you find has a long history of business and satisfied clients, you are on the right track. Ask questions about the company's history and intentions and ensure a track record of growth.
Variety of Service Offerings
The most professional commercial printing companies will have a wide array of services available to their business clients to satisfy many print needs. That is, after all, one of the main reasons businesses decide to contract out to a third-party printing service.
Do they offer a full suite of services from design to fulfillment? Can they meet the turnaround time your project requires? Not every commercial printer has the right services that you may need, so make sure you check these important boxes before you make your final decision.
Technology
Does the printing company you are looking at have the latest printing technology, or are they falling behind when it comes to modern demands? Access to tools such as digital printing is essential for businesses that want cost efficiency and speed to keep up with demand.
Ask the companies you are interested in what print technology they are using and what data security processes they have to safeguard your sensitive materials. This is especially important for printing items like a medical explanation of benefits (EOB), medical bills, financial statements, and other HIPAA-compliant or sensitive data. Even more, new technology means faster speeds, better print quality, and better pricing.
Quality
One of the most important things to check for, and probably one of the things you will notice initially, is the overall quality of work they produce. Check reviews to make sure that the printing products they produce meet clients' criteria they have worked within the past.
This can be easy to miss over the internet, so ensure you are doing proper research to learn about the real-life quality of their work. Ask for product samples or a list of testimonials that support the company's good quality claims.
Project Management Capabilities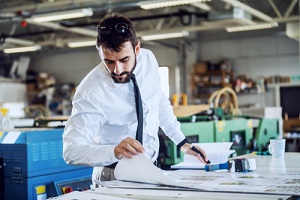 Does the printing company you are looking at seem self-sustainable? Will they be an easy thing to integrate into your company, or do they require an unnecessary amount of attention to coordinate with?
The best commercial printing companies will be adaptable and easy to incorporate into your company's day-to-day.
Their management should be efficient and help to augment your output, not hinder it. Ensure they are invested by checking if they ask relevant questions, offer helpful suggestions, and are just overall eager to improve your workflow and save you money.
Overall, a great commercial printing company will be experienced, modern, dependable, and have excellent quality materials. If you are looking for a commercial printing company to work with, keep these factors in mind and you are sure to find a reputable company that will help transform your printing processes.
Reach Out To The Commercial Printing Experts
Professional Graphics Inc. is a full-service commercial printing company specializing in taking the stress and worry out of printing for businesses. Our experienced team and extensive capabilities can help you cut costs and improve the speed and quality of your printing demands. Contact us online to get started with fulfilling your organization's commercial printing needs today.