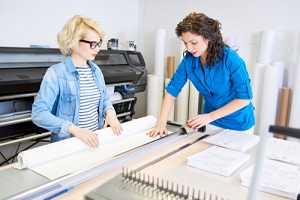 Are your in-house printing projects distracting too much from your productivity? Are costs for maintaining these tools and materials getting out of control?
If so, outsourcing your printing needs to a commercial printing company may be your best option.
When you work with an expert commercial printing company, your teams will be able to worry less about getting the job done and focusing more time and energy on being creative and productive.
If you want to maximize profits while reducing costs, consider outsourcing all of your business printing needs.
Letting professionals execute your ideas can streamline your processes and optimize print workflows to achieve maximum productivity.
Why Outsource to a Commercial Printing Company?
Even though the world has been shifting to be more and more digital (especially in marketing), the demand for print has remained steady.
Working with a commercial printing company gives you access to state-of-the-art tools that are expensive and difficult to manage independently.
These companies specialize in executing your wildest and most creative ideas and everything in between, all at a fraction of the time and effort it would cost your business to do on its own.
Some examples of print materials these companies offer include:
Full-color printing
Business cards
Booklet printing
Posters
Marketing materials
Laminates
Embossing
The teams you will work with are experts in their field and can help you pick the perfect type of paper, ink, and printing method to get your job done on time and on budget.
Some of the main benefits you receive when working with a commercial printing company include:
Improve Efficiency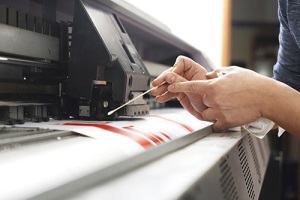 If your business is going to run efficiently, it is critical to ensure you are reducing the time and effort it takes to complete tasks without sacrificing the quality of your products.
In the business world, printing is commonly an outsourced task. Outsourced printing services can help you with any type of printing you may need.
By freeing up the time it usually takes to do these tasks, you'll have more time to focus on the game plan behind your materials and how you want them to be executed. Leave the printing process to the pros!
Reduce Overhead and Risk
Handling all of your printing needs in-house can come at a significant cost. You need top-quality tools and a team that understands how to use and maintain them properly – all of which can be very costly to an organization.
With a commercial printing company, these costs disappear. These companies can provide any printing method or medium you can dream up and will execute it to perfection each time.
Get Access to More Options
There are many different printing methods, with digital printing becoming a go-to option for businesses.
Each type of printing method has its own benefits and drawbacks, and the experts at commercial printing companies understand how to match projects with the right approach.
Don't struggle and lose money figuring this process out on your own – work with the experts who can streamline this process and complete the work for pennies on the dollar.
Guarantees
Many commercial printing companies offer guarantees for their work. If you're not satisfied with the outcome and you gave them specifications according to their request, they'll often either replace the work with no extra fees on a rush job or give you credit for another product in the future.
If you try to handle this process on your own and it turns out it's wrong, you're left on your own to start from the beginning with no refund.
Relationships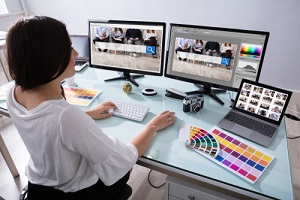 Another reason to choose commercial printing services is the relationship that you can potentially build with them.
Many of these businesses are family-owned and have decades of experience in the industry, and so they treat their customers with a certain level of respect.
They see you as a business partner who is part of their business' success story. This is an invaluable asset and can lead to a productive working relationship.
Speak With Professional Graphics Inc. For More Information
Commercial printing is still helping businesses grow to be their best while helping make their lives a little easier.
Working with a commercial printing company gives you access to cutting-edge equipment and a team of experts that strive to help you increase your bottom line through affordable, high-quality print content.
Reach out to Professional Graphics Inc. today to learn more about how commercial printing services can help your business.