If you want to focus your business acumen on generating revenue streams without losing perfection in your marketing materials, you need commercial printing services. When dealing with mounting competition, the last thing a business needs is unprofessional marketing collateral that hasn't been printed correctly and the colors are all off.
Commercial printers offer volume or size-specific printing services on time, cost-effectively, and without compromising quality. These professional services can print out items in bulk.
Commercial Printing For Businesses – Is It A Necessity?
If you are tired of hovering over the office printing machine and still need to ensure that your marketing materials are perfect, let the professionals at a commercial printing service handle it.
Contrary to popular belief, commercial printing continues to thrive despite the amazing advances in marketing technologies. The global commercial printing industry is valued at more than $410 billion, and it's projected to reach $472 billion by 2026.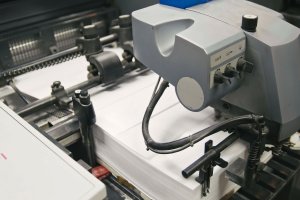 So, rest assured that there's nothing like a good brochure, flyers, catalogs, and posters to let people know about your business and what it sells.
You need commercial printers to ensure smooth and high-quality printing of large-scale branding materials. These could be posters, books, catalogs, newsletters, leaflets, magazines, brochures, etc. Commercial printing creates professional artwork that leaves a good first impression on your target audience. Importantly, it boosts sales and encourages a solid brand-customer bond.
These professional services have the resources to meet your exacting requirements, making them the best at high-volume printing, preserving top speeds, and maintaining superior quality. They can also help simplify illustration reproduction and prints.
When choosing the right commercial printing service, a business needs to consider a number of factors to ensure your printed materials meet your organizational goals. Certainly, several commercial printers are available in the market, but are they all worthy of your valuable time? Or is hiring a commercial printing service a better choice? Let's find out.
Different Types Of Commercial Printers
Here is a list of the most common printers used by these professional services to help you promote your brand in the most effective, affordable, and competent manner.
Digital Printers
They are best for businesses that seek short runs and personalization. Due to fixed pricing, bulk printing doesn't offer scaled cost reductions and ultimately ends up costing more in the long run. Also, digital printers have color and ink limitations, making the end result less durable.
Wide Format Printers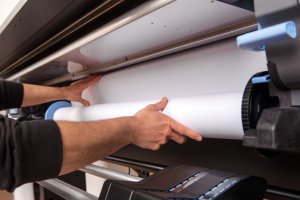 Wide-format printers are perfect for producing high-quality, large-scale print media such as posters, wraps, signage, banners, tarpaulins, and other advertising materials. The width of wide-format printers ranges from 19″ to 64″.
The average cost of a wide format printer is between $9,000 to $15,000, whereas the 60″ commercial grade production, wide format printer with more than four ink colors has an average price range of $16,000-$25,000. While buying a wide format printer would be a waste of money for most businesses, companies can outsource their printing needs to a commercial printing service to take advantage of this technology.
Garment Printers
Garment printers use permanent ink, ensuring long-lasting graphics and prints that won't smudge or fade on various garments. They save time and energy, thus increasing productivity.
A professional garment printer costs $10,000 to $500,000, making them a heavy investment for any business. Purchasing a garment printer for a couple of marketing campaigns isn't the right decision. But you could always work with a professional printing service to get products that work very well as marketing collateral.
Labelers And Stamp Printers
Commercial printers can print labels, barcodes, and other smallish texts and designs.. These labelers and stamp printers are compact, handy, great for foodstuffs, garments, packaging materials, and fabric labeling businesses, and consistently produce high-quality prints rapidly. They work seamlessly and effortlessly to label expiration dates, lot numbers, prices, and much more, making them perfect for printing legible and clear codes at affordable prices. Order in bulk with your local commercial printer, and you'll get great prices.
Screen Printers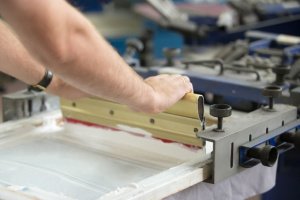 These versatile printers work on textiles, wood, ceramics, plastic, glass, and paper. They can also print on substrates of any size, shape, and thickness without compromising quality. They employ inks and dyes, water, UV curable, solvent, and water plastisol to create stimulating effects that can't be achieved with any other printers. They are excellent for producing labels, signs, T-shirts, nameplates, and other large-volume printables.
The average price for a one-color print on a 100% cotton T-shirt is around $5.50 to $9.00. So, the price comes closer to $5 per t-shirt or even lower, depending on how much you order. That's why it's best to work with a commercial printing service and take advantage of lower prices. They know just how to reduce waste and lower costs for you while delivering marketing materials that people love.
Find Out More About Commercial Printers With Professional Graphics
Running a full-time business demands time, effort, and resources. Printing marketing collateral is a time-consuming task as it requires long hours standing beside a printing machine and ensuring each print meets high standards.
You might have an inkjet printer at your home that you use for your small digital print jobs, but it can't possibly deliver the speed and quality that commercial printing can.
Call Professional Graphics Inc. for all your commercial printing needs. We offer full-service printing and graphic design solutions in Norwalk, CT. Our printing experts have over 40 years of relevant experience in delivering and exceeding clients' expectations and are happy to help. Call (203) 439-6120 to contact Professional Graphics online to learn more about our exceptional commercial printing solutions.