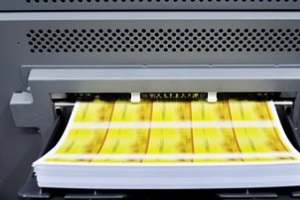 As a business leader, it is likely you are always looking for ways to improve efficiency and your overall bottom line when it comes to executing marketing campaigns and printing projects. This is why commercial printing services are an invaluable asset for organizations of all sizes.
Before you can make an educated decision on utilizing commercial printing services, it is important to understand the different types of printing options that these companies use.
What Is Commercial Printing?
Commercial printing is a method that businesses use to get their printing needs completed at scale. Commercial printing companies are experts at printing, using the most common methods and technology in the printing industry. These experts work with businesses step-by-step in order to complete bulk printing jobs at a fraction of the price of getting the same job done in-house.
Commercial printing can utilize a variety of methods including offset printing, digital printing, sign printing, screen printing, and more. The team at the commercial printing company helps walk you through the process so that you are informed throughout the whole process and understand why they choose certain methods and materials.
Choosing Which Commercial Printing Services To Use
But how can you know which printing service your business should utilize? There are a lot of options to choose from, and the process can seem a little daunting at first. In reality, however, finding the right services for your business just requires a little research and analysis of the needs of your organization.
Let's take a look at the different methods and why you would or wouldn't choose each one.
Offset Printing
Offset printing is a very common method that is often used by companies of all sizes. Offset printing technology uses plates, usually made from aluminum, that are utilized to transfer an image onto a rubber "blanket." From here, the images are rolled onto a sheet of paper. It's called offset because the ink is not transferred directly onto the paper.
Because offset presses run so efficiently once they are set up, offset printing is the best choice when larger quantities are needed, and provides accurate color reproduction, and crisp, clean professional looking printing results.
Highlights:
Great for large batches
Cheaper at scale
Not the best choice for smaller runs that need a ton of detail
Digital Printing
Digital printing doesn't employ plates the way offset does, but instead uses toner (like in laser printers) to print images. This form of printing uses a digital image file (JPEG or other) to easily send the file from a computer straight to the printer. Digital printing shines when lower quantities are needed; think of a run of 20 greeting cards or 100 flyers.
Another benefit of digital printing is its variable data capability. When each piece you print needs a unique code, name, or address, digital is the only way to go. Digital is no doubt the best option when you need certain prints to be individualized within a specific batch. Offset printing cannot accommodate this need due to its repeatable nature.
Highlights:
Highly customizable
Best for shorter runs
Enables more flexibility and speed
Very affordable
Bulk Commercial Printing
Bulk commercial printing is a great way to produce your printing materials in the most cost-effective and convenient way possible, especially for larger batches.
Whether you are promoting a marketing event and need flyers for a campaign or your organization wants to create its own magazine, bulk printing is often essential to ensure you can meet the demand for your products. This approach can utilize a variety of printing methods depending on the specific details of the project, which the experts you will be working with can help you choose.
Highlights:
Best option for mass production
Flexible
Best used alongside a team of printing professionals
Trust The Expertise Of Printing Professionals
Now that you are more familiar with some of the options that are available to you, you should be able to more easily choose which approach works best for your needs and your company. An important item to keep in mind is that no matter what the project consists of, working with a commercial printing company gives you access to a team of dedicated experts who can help you make decisions at each step in the process.
Most businesses ' printing needs are always changing based on new goals and objectives, and these experts can help you to always go with the strategy that is the most cost-effective and timely, without ever sacrificing the quality of the print.
Professional Graphics Inc is a full-service commercial printing company that strives to help remove the stress out of the printing process for businesses. Reach out to the commercial printing experts online or over the phone at (203) 439-6120 for any of your business printing needs. Their team always treats organizations like their own while working diligently to provide them with the highest quality printing products.