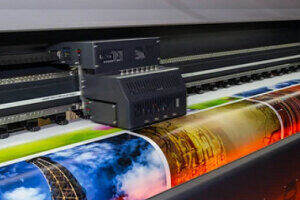 Any company that is considering commercial printing services knows the term offset printing. This process can benefit businesses in several ways but is rather complex. Here is a close look at what offset printing is and how it works.
Offset Printing: What Exactly Does It Mean?
Offset printing, also called offset lithography, is a multi-step procedure intended for mass production. If you wish to print longer editions of books, magazines, brochures, manuals, paper-based labels, or other similar materials, offset printing is the ideal process to use.
This process — which was first used in Germany in 1798 — involves water, oil-based inks, chiseled metal plates, and multiple different types of cylinders. Offset lithography as we know it today was accidentally discovered in 1904 in New Jersey by Ira W. Rubel.
How Does Offset Printing Work?
The plates are made so that the inks adhere exclusively to the parts containing the text and images. The oil-based inks are repelled with a thin layer of water that coats the blank regions of the plates.
However, the ink on the plaques is first typically moved to a rubber-wrapped cylinder called a "blanket cylinder." Once this ink-covered cylinder rolls over a sheet of paper, the ink also touches the paper. Remember that you need separate blanket cylinder rollers and plates for each ink color you choose to use.
Various Forms of Offset Printing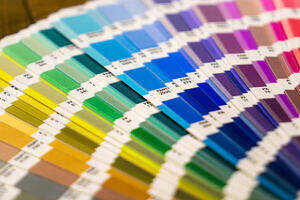 There are three distinct types of offset lithography: quick set, sheet-fed, and web. Quick set printing is perfect for high-quality images such as periodicals and trademarks.
Meanwhile, sheet-fed printing utilizes precut paper. This form of printing can be performed on several types of materials, including metal, plastic, or cardstock. Nevertheless, it is not recommended for large orders.
Large presses can be fed sheets up to 40" x 26". (According to market intelligence firm Smithers, sheetfed offset printing is projected to grow slightly from $183.7 billion in 2014 to $192.6 billion in 2024.) Lastly, web offset printing utilizes a mechanism that continuously feeds paper. Once the pages are printed, they are cut and separated.
Web offset printing is perfect for large quantities of printed materials such as magazines, books, or newspapers. Web printing can be either coldset or heatset. Presses that use the latter method (which features evaporation) are approximately four to five times faster than their sheetfed counterparts. In both methods, however, ink is absorbed into the paper.
Benefits Of Offset Printing
Offset printing carries the following advantages:
It is cost-effective for high volumes of paper (you can save large sums in the long run)
It ensures the highest possible quality
Multiple different types of ink and paper may be used
Substrates and Finishing Processes Used In Offset Printing
Many types of substrates (surfaces) may be used for offset printing. Additionally, different types of paper (e.g. traditional printing paper, synthetic paper, carbon-less paper, metal-laminated paper, etc.) can be used.
The same is true for plastics and other materials. The type of finishing equipment utilized for offset printing varies depending on the kinds and amounts of materials that are being manufactured.
However, examples of commonly used equipment include devices for cutting the paper or for binding, folding, laminating, varnishing, or die-cutting sheets. For an even more professional look, printed sheets can also be embossed, perforated, or foil-stamped.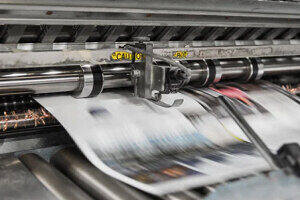 Additionally, certain devices allow you to use clear ultraviolet (UV)-curable ink to make printed materials more durable or simply for decorative purposes.
It's also important to remember that offset printing is different from digital printing. The latter printing method does not use the plates used in offset printing.
Therefore, digital printing is not ideal for high-quantity orders. However, digital printing has many benefits, including the fact that it allows you to print only the volume of paper you need and that it constitutes a more advanced technology. (It's also cost-effective for short runs.)
Get Offset Printing Services With Professional Graphics Inc.
Reach out to the specialists at Professional Graphics Inc. to receive high-quality offset printing services. Since 1979, we have been providing complete commercial printing at competitive rates. We use modern equipment and creative solutions. We will also always deliver our services on deadline and according to your budget.
We can provide offset printing for business materials such as pamphlets, brochures, pocket folders, and envelopes. If you need help with color correction, our experts can also assist you with this. Call Professional Graphics Inc. today at (203) 347-0215 or contact us online for more information about our work.