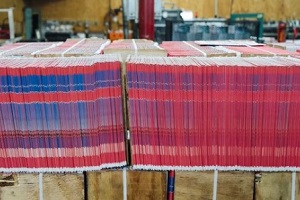 Commercial bulk printing can help businesses in all industries with everything from packaging products to marketing and labeling. Whether companies want to save time or money, boost customer engagement, or increase brand awareness, there are many benefits to working with commercial bulk printers. However, some industries have a greater need for these services.
Here is a look at some of the industries that can significantly benefit from commercial bulk printing.
Real Estate
The need for printed materials in real estate begins at the moment a home is listed, when signage and flyers are used to spread the word about the property that is being sold. For real estate agents, getting the information about available homes out there is a top priority. Many real estate agents also depend on bulk printing for promotional materials such as calendars and magnets.
Education
One industry that depends heavily on commercial printing services is education. This includes everything from textbooks and learning materials to posters and worksheets. Printed material enables educators to share complicated information and complex ideas with students in a visual format helping to facilitate the learning process.
Publishing
Another industry that relies on commercial bulk printing is publishing. While the need for printing services may seem obvious for book production, other publications such as magazines and catalogs also depend on printing services.
Packaged Food
Although the link between printers and your local supermarket may not be obvious, grocery shoppers are surrounded by items that have been bulk printed. From food labels and product packaging to brochures, signs, coupons and marketing material, the packaged food sector uses commercial printing services extensively to place its products in front of shoppers and encourage them to make purchases.
Automotive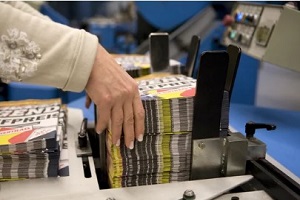 Car dealerships and auto repair shops also depend heavily on commercial bulk printing. Showrooms use brochures to entice customers and provide them with information to take home and review when making major purchasing decisions.
At events, dealerships often need promotional materials such as banners, posters, booklets and window clings. Auto repair shops often use printed materials such as coupons and brochures.
Financial Services
While many smaller transactions are now taking place through online banking, financial institutions continue to have a great need for printed materials including signage, brochures and marketing materials.
However, one of their biggest uses for printed materials is communications with customers and forms such as loan applications. Many customers still prefer to follow the traditional route of receiving hard copies of financial documents and bank statements.
Medical and Pharmaceutical
Brochures and patient education materials are commercial bulk printing materials the medical and pharmaceutical industries rely on. They also use printing services for their marketing efforts and product packaging.
Marketing and Advertising
The marketing and advertising industries benefit from commercial printing services to support their promotional projects. Many of their campaigns employ a multipronged approach that includes booklets, brochures, flyers, business cards and posters, all of which may be given to the public to help spread the word about their clients' services and products.
Restaurants
In the restaurant industry, businesses offering takeout or delivery services rely on commercial bulk printing for menus and promotional materials. These can easily be distributed throughout their service area to share their offerings and make it easy for consumers to get in touch. From flyer-style menus for mailboxes to magnets featuring contact information included with orders, commercial printing can help local restaurants put their name on the map.
Why Work With Commercial Bulk Printers?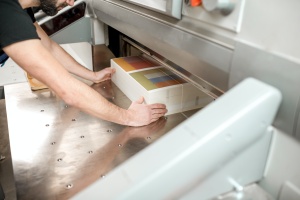 There are two main reasons that businesses work with professional printing companies: quality and scalability. The quality of the work generated by professional printers is far more impressive than that achieved by office printers, and the high-tech equipment used by these companies can easily manage high volume printing with better finishes and a range of high-quality papers.
They are also capable of generating those high volumes of top-quality printouts quickly. From brochures and business cards to catalogs, postcards, calendars and invitations, businesses can enjoy reliably professional results that help them achieve their objectives.
Contact the Printing Experts at Professional Graphics Inc.
At Professional Graphics Inc., we offer a comprehensive range of commercial bulk printing services to help your business conduct its operations and carry out marketing campaigns. Whether you need brochures, product packaging, printed materials or other types of print work, we have the resources and expertise to get your job done right the first time, with quick turnaround and reasonable pricing.
Our team will ensure high-quality results that meet your vision. Contact Professional Graphics Inc. online today or call us at (203) 439-6120 to get started.