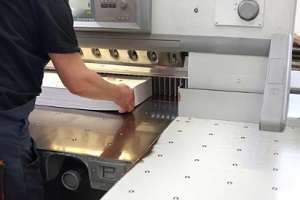 We may be in the digital age, but print marketing remains a highly effective strategy for helping businesses spread the word about their offerings and commercial bulk printing makes it possible.
With print marketing, businesses can choose a target demographic and use printed materials to reach them in a more lasting way than a visit to a website can accomplish. Customers might forget a business after clicking away from its site or becoming distracted by other content online, but print marketing materials provide long-lasting value and awareness.
In fact, studies have shown that customers spend more time looking at printed marketing materials than their digital counterparts. They also tend to recall more information about the advertising message and have a stronger emotional reaction to it. Printed marketing materials give people something tangible they can keep in their home or place of business, interact with, and share with others.
Here is a look at some of the most effective marketing products your business should be bulk printing.
Flyers
Flyers are an effective and versatile marketing tool, which is why we continue to encounter them on a regular basis despite requiring slightly more effort and expense than internet advertising.
When designed properly, they can communicate your brand's message quickly and persuade purchasing decisions. Bulk printing flyers are particularly suited to events with short notice because they are quick to design and produce.
They can also be used to support digital campaigns. For example, a flyer can be printed with a QR code that links to the company's website, where prospective customers can find further information or interact with the company directly. Thick paper and high-quality images can give a flyer a premium look, while sticking to brand colors can help raise brand recognition.
Brochures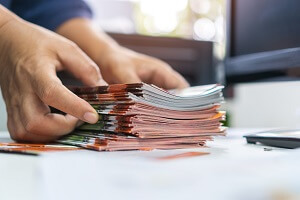 Brochures have not fallen out of favor in the modern era. In fact, they can be thought of as being the printed equivalent to a website. With a first-rate printed brochure, you can convey your business's message to a broader audience, using compelling text and images to make an impression on potential customers.
Keep in mind that you will only have a few seconds to capture a customer's attention and convince them to keep reading, so use engaging images and simple graphics in your printed marketing materials. A short and sweet message is the best approach for ensuring customers do not lose focus. You can print brochures in a range of folding options for added interest.
Calendars
A calendar is a great way to keep your business fresh in your customers's minds throughout the year. Although a lot of people now use calendar apps in their smartphones to keep track of appointments, many still regularly place paper calendars on refrigerators and bulletin boards in their home so they can check dates at a glance.
When designing a calendar for marketing purposes, it is important to keep your audience in mind. You may use photos that are pleasing to look at, such as beautiful landscapes or animals, or you might choose photos that are more related to the type of business you operate.
Either way, make sure you use excellent photos and remember to keep your business's name, logo, and website situated somewhere on each page. Another popular approach is a smaller magnetic calendar with tear-off pages for each month that people can place on their refrigerator. This is a great end-of-year gift for clients.
Business Cards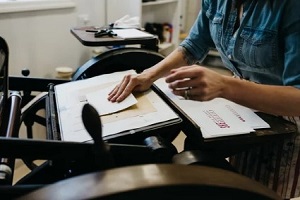 Business cards remain a quick and easy way to share contact information with people who might be interested in your business. They are still indispensable for networking events and leaving with people during sales visits so it's essential to bulk print a large order.
They are very cheap to print, which means that most businesses can afford to customize their business cards in terms of the paper stock, finish, and coatings that enhance durability.
Booklets
Another important marketing product for businesses is booklets, an affordable way to build trust with an audience and convey information that can help with brand awareness and purchasing decisions. They can be made in any length, which means they provide the opportunity to go into greater depth or display a broader range of products than a standard brochure.
A good booklet will highlight important information and use eye-catching images and graphics to keep readers interested. A five-star printed booklet can help you make a positive impression and show potential customers that your business is professional and serious.
Most booklets are used to showcase product lines and list specifications of different models of products. However, they are also useful for promoting special events. They can add credibility to sales pitches and show off product lines to those who are less inclined to visit websites, such as elderly customers.
Reach Out to the Experienced Commercial Printers
Professional Graphics Inc. is an experienced commercial bulk printing company that is known for high-quality work that meets deadlines and exceeds expectations. Contact us today to discuss your company's print marketing needs.