Businesses of every shape and size regularly host promotional events to increase sales and visibility. One effective way to advertise your products and services is through printed materials.
Let's say you've got a new service or product to launch and want to promote it to prospective customers. It's best to utilize time-tested marketing strategies like newspaper advertising, billboards, etc.
But not everyone can afford or needs marketing campaigns on such a large scale. In that case, printed marketing collateral like brochures, catalogs, direct mailers, door hangers, and letterheads offer better appeal.
These printed help your brand get the attention it needs and encourage people to purchase from you. So, what you need is commercial printing.
Commercial printing helps you get top-quality printed pieces without getting you involved in any heavy lifting. Communicate your requirements clearly and let commercial printing do the rest.
This article will walk you through exactly how commercial printing works and how long it takes to deliver projects, and what to expect when ordering online!
Commercial Printing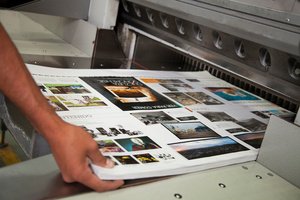 The global commercial printing industry was worth $77.7B in 2021, and these figures are projected to grow by 4.5% in 2022.
But exactly what is commercial printing?
It includes printing materials such as magazines, postcards, catalogs, etc. for businesses and organizations and usually involves large numbers of items.
Many companies use commercial printing services for various materials, from retail and publishing to marketing and advertising. It helps build a brand identity and win over the audience with an excellent first impression.
Businesses need credible commercial printing solutions to help them focus on more essential activities and save time. Not to mention, you would require a separate, dedicated printing room that leads to more human resources and office space investment.
Professional commercial printing services allow you and your staff to concentrate more on tasks requiring expertise. This helps distribute operational duties evenly and maintains efficiency.
All businesses require printed products. For example, hospitality sector businesses may need the following:
Menus
Hotel stationery
Feedback cards
Guest checks
Restaurant placements
Takeaway menus
Training manuals
Local guides and more
And health-care providers may order these in print:
Doctor cards
Newsletters
Brochures
Medical reports and more
You can get a variety of items that best meet your requirements and goals when you hire a leading commercial printing service provider.
Commercial Printing: What To Expect When Your Order Online?
Listed below are the steps you can follow to order commercial printing products:
Choose the Product You Want
Start by choosing an item you want to print. Some of the best commercial printing services can help you print anything.
You can either order standard products or create a customized design before placing the order.
Online Quote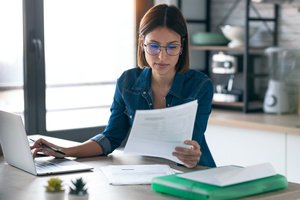 When you choose an item to print, the system allows you to determine:
Quantity
Ideal finishing choices
Paper quality
Delivery time
Depending on your options, the system provides online quotes for printing products such as stationery, business cards, brochures, etc.
You can also change parameters and view the quote in real time. This allows you to choose and pay conveniently.
Design Choices
You can upload design files you already have or select between the choices available if you want a customized design.
Use a website's online editor and customize your design
Send data to a website so they can edit it on your chosen template
Proof Check
The service will evaluate whether your design is technically feasible for printing if you upload a file. However, if you choose a template from the service, you'll get a digital proof attached before it is sent for printing.
Pay
No matter the service you choose, all offer multiple payment options. Make sure to pick a secure payment method. Here are a few payment options most services provide:
Credit card
Net banking transfer
Check
Note: Production begins when payment is completed.
Print & Deliver
When your payment is verified, the online company provides an estimated turnaround time for delivery. Once printing finishes, your order will be delivered to the one you provided.
What's the Typical Turnaround Time for a Printing Project?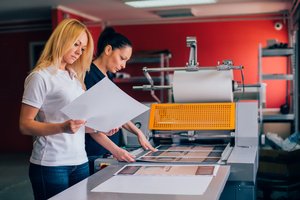 Wondering how long a commercial printing service provider may take to complete your printing project?
Many factors come into play to decide how long a project may take. If your company has a busy schedule with various deadlines around the corner, make sure to know the turnaround for your printing project.
Listed below are a few factors influencing turnaround time:
Number of Items Ordered
Your turnaround time (TAT) for printing projects will affect whether you require 10,000, 1,000, or 100 items. Moreover, additional items, such as stickers, envelopes, dust jackets, etc., can also affect the time.
Printing Types
Though you can choose your favorite printing type, most services provide offset or digital printing for various project needs. Offset printing is relatively slower but effective in larger volume print runs, while digital is much faster and better for small volumes.
Special Finishes
Choosing glosses, varnishes, and any other finish for the project can add a few days to your printing project, including small volume projects.
Place Your Order for Quality Commercial Printing Products!
Many businesses use printed products in their day-to-day operations. This helps them not only in customer acquisition but also in customer retention. It allows companies to improve brand reputation and bolster personal relationships.
You can't separate commercial printing from a business. So, it's best to understand it and search for cost-effective methods.
Are you looking for a full-service commercial printing solution to automate the entire process?
Professional Graphics Inc. can help you print, design, and distribute items more effectively and efficiently. We can help you save time, effort, and marketing dollars. Contact Professional Graphics for assistance with cost-effective, quality printing products.
For more information, visit the website or contact us directly!