Do you plan to retire or discard any of your clothes from your closet and remove their screen-printed images to give them a fresh, new look? Wondering how to keep your favorite shirt or another fabric safe while removing screen printing designs? If you are planning to remove screen printing from your fabric, there are several different methods to achieve screen printed-free fabric.
Screen printing (silk-screen printing) is an increasingly popular method of adding designs and colors to any fabric for bags, T-shirts, hoodies, and more, but there are times when there is a need to remove screen printing. This article will walk you through the four best ways to effectively extract screen prints without any damage.
What's Screen Printing Exactly?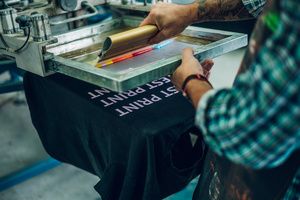 Often known as serigraphy or silk-screen printing, screen printing is one of the most popular methods available that pushes ink through the mesh screen to create an excellent print design.
The process is widely used in various industries worldwide to create customized clothing, posters, artwork, canvasses, and much more.
4 Easy and Effective Ways to Remove Screen Printing From Fabric
If you are looking for an easy and affordable way to remove screen prints from your favorite fabric without damaging it, use these four tips to extract screen printing designs and get clean, odor-free material to don again.
Using Acetone/Nail Polish Remover
To get rid of screen prints once and for all, use a nail polish remover-an effective, easy, and quick way to remove screen prints from your fabric without damaging it.
One of the main constituents of nail polish remover is acetone (dimethyl ketone), which can effortlessly dissolve any old or cracked ink design.
Here's how to use acetone to eliminate screen prints:
Before using it, determine the fabric that screen prints are printed on. You won't need acetone if your clothes are made of polyester fiber.
Pour some nail polish remover/acetone on a pad or cotton ball and start rubbing it against the print with a constant circular motion until it disappears.
The process may take 10-15 minutes but provides a clean, undamaged shirt you'll love to wear again.
Sugar Scrub
You can use sugar to gently rub various screen print designs. Although it works better on fresh, new designs, you can also utilize it on older prints.
Follow these steps to remove screening printing:
First, give your fabric a cold-water rinsing and see if that suffices.
Second, if the fabric still has any print left, add some sugar (a tablespoon) to it.
Then start rubbing it in circular motions with a damp cloth.
Plastisol Remover
Plastisol is an increasingly popular screen printing ink made from polyvinyl chloride or other polymer particles in the liquid plasticizer.
You can effectively remove plastisol prints with plastisol removers-a print-removing technique that saves time and money. It's drain safe and provides odor-free, clean fabric without any designs. It contains powerful chemicals like acetone and should be used in a properly ventilated space with gloves on.
Here's how to clean prints from your fabric using plastisol removers:
Start by soaking a cloth in plastisol remover and place it over your print design.
Next, leave it for a minimum of 20-30 minutes.
Use a light brush and a dry cloth to remove the remaining flaking bits and plastisol remover, respectively.
Finally, wash your fabric before wearing it again to prevent any odor.
Iron & Paper Bag
Use this method on delicate cotton fabric. Here's how to remove prints with an iron:
First, set the iron temperature similarly as to when you iron cotton fabric.
Second, press the iron over a kraft paper.
Third, keep your fabric on an ironing board until the screen print melts.
Lastly, remove both the kraft paper and iron and start rubbing the leftover ink with a toothpick.
Additional Tips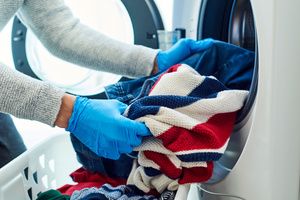 Here are a few other tips to consider when you plan to remove screen printing designs from your clothes:
While scrubbing screen print residue, ensure the fabric remains intact.
When using products with strong chemicals to dissolve ink prints, don't forget to wear gloves as these chemicals can adversely affect the skin.
Synthetic materials are easier to extract screen prints from; however, they're increasingly sensitive to heat and easy to melt. Be careful when heat-pressing it.
Multicolor designs make no distinction from single-color designs when removing prints. Unlike image color, the ink composition matters as it may include chemicals.
Get Reliable, Quality Screen Printing Products
Get in touch with Professional Graphics Inc. specialists to learn more about quality screen printing solutions and how you can effectively remove different print designs.
No matter the fabric or product you want to extract the print design from, our experts can offer comprehensive guidance or recommend the most effective ways to remove screen printing from fabric. For more information, visit the website or contact us directly.