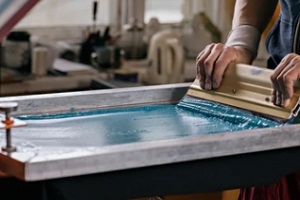 Screen printing is a process that involves creating a printed design on a flat surface by pressing ink through a mesh screen that is stenciled. This technique also typically involves the use of a squeegee. Many different industries use screen printing, which is also occasionally called "silk screen printing" or "serigraphy."
You can use screen printing to create posters, canvases, textiles, and fabrics. According to Globe Newswire, the screen printing market in the United States was valued at approximately $474 million in 2020 and the global market is projected to reach $5 billion by 2027.
There are both benefits and disadvantages to commercial screen printing, which is specifically aimed at designing products for sale. Here is a closer look at those pros and cons.
Let's begin with the four notable pros of commercial screen printing:
Pros
Durability
Designs created via screen printing are generally more durable than digital designs or designs created through heat press. This is because screen printing involves using thick ink layers that the surface's material absorbs. Thus, the designs become more durable, especially when they are directly exposed to sunlight. Digital designs frequently fade after a certain amount of time of being in contact with sunlight.
Great for Simple Designs
Screen printing is the ideal technique for creating simple designs. More specifically, screen printing is an excellent choice for any artwork that features solid colors, but isn't photography-based. This includes company logos or other commercial graphics. Screen printing is also the best process for gradients as the designs created are generally sharp.
Flexible Printing Material
There's hardly any comparison in terms of the flexibility screen printing offers relative to other printing methods. In other words, virtually any surface can be used as long as it's flat. You can use surfaces made of paper, fabric, glass, plastic, metal, or wood, for example.
If you want to create custom products with unique or complex shapes (such as T-shirts), screen printing is the process to choose. The ink used in screen printing is also heat-dried, which means the clothes you work with can withstand a washing machine's roughness.
Perfect for High Print Volume
If you're looking to print a large number of branded products, you should definitely use screen printing. By doing this, you only need to set up your materials for screen printing once. Also, screen printing is more cost-effective than other techniques such as digital printing, which is typically offered at a flat rate.
Cons
Despite the many benefits of screen printing, there are also several disadvantages to this method. Here are the cons of screen printing:
High Print Volume Required
If you only intend to print a few designs, screen printing isn't the best option because you'll likely have to spend more money to do so. Additionally, certain printers have limits on the amount of designs they can print, so be sure to always check with your printer professional before you begin.
Few Colors
It's also not a good idea to choose screen printing if you wish to create a photography-based design or one with several different colors. Although you can mix spot colors, forming certain shades or gradients is significantly more challenging to accomplish with screen printing. Therefore, make sure to ask your printing consultant what colors they offer before starting your design.
Setup Process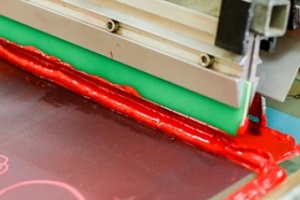 As previously mentioned, the setup process for screen printing only needs to be done once. However, this process is more complex than the setup for heat press printing or digital printing, so you'll have to spend more time completing it, resulting in a longer turnaround time.
For each shape and color you use in screen printing, you'll need a new screen. Therefore, it's always a good idea to gather as many printing supplies as possible for screen printing as the cleanup process will also take time.
Get Commercial Screen Printing Services from PGI
Reach out to the experts at Professional Graphics Inc. to receive high-quality commercial screen printing services for your business. We're a full-service commercial printing company based in Norwalk, Connecticut that has been in business since 1979.
Our team has decades of experience with several different types of printing, including screen printing, digital printing, and offset printing, as well as binding and finishing services like foil stamping and die cutting. Regardless of the designs you need printed or the industry your business is in, our experts will always take time to be meticulous with your printing projects and deliver quality results.
If you need to print a large number of designs, turn to Professional Graphics Inc. for bulk printing services that are cost-effective and convenient. We also used advanced technology and equipment to perform our services. Call PGI today at (203) 347-0215 or contact us online to request a quote or to learn more about our printing services.