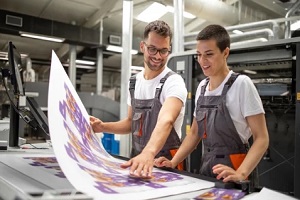 As an artist, monetizing your talent can sometimes be challenging. Creating and selling prints of your art can be a big step towards putting yourself out there and turning your hobby into a profession. Bulk printing, in particular, can be cost-effective as you grow and expand your artistic endeavor, making it a viable option for artists at any stage of their career.
By using bulk printing to produce prints of your art, you maximize your reach and reduce your per-unit cost, leading to higher profit margins. You'll be surprised at the joy your artwork can bring to people's lives and how easy it can be to get your work out to your fans, friends, or family.
So, let's dive into the process of making prints and explore how artists can cost-effectively make prints of their art to sell.
What Is Bulk Printing?
Bulk printing is a process wherein large quantities of a particular art print are produced simultaneously. This method is commonly utilized by artists who wish to create and sell multiple copies of a single work. By ordering prints in bulk, artists can significantly reduce their production costs, allowing them to offer their artwork at competitive prices.
The main advantage of bulk printing is efficiency at scale. As the quantity of prints increases, the cost per unit tends to decrease. It is also important to note that this affordability does not compromise the quality of prints; it merely streamlines the production process.
So whether you're an artist looking to sell your work at art fairs, online platforms, or local galleries, bulk printing is a cost-efficient and effective way to reproduce your art. Bulk printing begins with a high-resolution scan or photograph of the original artwork.
This digital image is then tweaked to ensure that colors and details match the original art as closely as possible. Once the digital file is prepared, it's time to choose the printing method.
There are various printing methods, and depending on the type of prints and art style, you may need to select a specific process over others. Be sure to inquire with a professional printing service with demonstrated experience to receive personalized guidance on the best method for your needs.
Offset And Digital Printing
Two popular options available for bulk printing: offset lithography and digital printing. Offset lithography, a traditional method, involves transferring an inked image from a plate to a rubber blanket and then to the printing surface, typically a paper or canvas. This method provides excellent color accuracy and crisp, clean, professional-looking prints.
Offset printing is renowned for its high-quality print output, making it an ideal choice for intricate art pieces. The colors in offset printing are vivid, accurate, and consistent, even in large print runs.
Moreover, offset printing becomes more cost-effective with increased quantity, as the bulk of the cost lies in the initial setup. However, offset printing has a longer turnaround time due to the setup process, and making changes mid-run can be costly and time-consuming.
Digital printing is known for its flexibility and speed. It allows for easy modification in designs, making it a suitable option for prints requiring frequent updates or customization. Digital printing also has a shorter lead time, ensuring quicker delivery.
However, the print quality, while good, may not be as precise or vibrant as that of offset printing. Additionally, digital printing could be more expensive per unit for larger quantities than offset printing.
Both methods have their advantages and are suitable for different situations. The choice between the two will depend on the quantity needed, your budget, and the specific look and feel you wish to achieve for your art prints. It may be beneficial to inquire about your printing service and experiment with both processes to determine which suits your unique needs.
Make Prints Of Your Own Art With Professional Graphics Inc.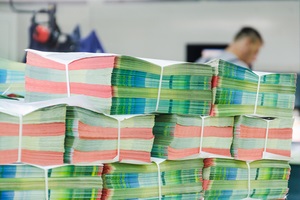 Working with a team of skilled professionals can greatly assist artists in selecting the optimal method for their bulk printing needs. These experts, equipped with years of industry experience and a vast understanding of diverse printing technologies, can provide insightful advice tailored to the artist's unique work and objectives.
They can guide artists on various aspects, such as the ideal paper type, ink selection, and printing techniques that best complement their art, ensuring every print retains the original's vibrancy and detail.
Additionally, a professional team can oversee the quality control process and help you find the method that helps maximize your profit margin and relationship with your customers.
For example, Professional Graphic's Direct Mail Services offer artists a comprehensive solution to bulk print their artwork and dropship directly to their customers. With this method, artists print and ship pieces of their art only when a piece is ordered, ensuring that prints are never overproduced.
This streamlines operations and ensures that artists are not overspending compared to their current demand. By removing the need to manage inventory and handle shipping logistics, artists can focus more on their creativity and less on operational tasks.
Moreover, this approach significantly reduces the costs associated with storage and unsold prints. Leveraging these professional mail services means artists can maximize their efficiency and scale their operations without sacrificing the time spent focusing on their art.
By entrusting your art to a competent team, you can focus more on your creative process, ensuring that your prints will mirror the excellence of your original pieces. To learn more about the value of working with a team of printing experts, reach out to our team of professionals today at 203-347-0215.