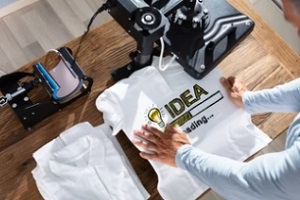 Screen printing, which is also called "serigraphy" or "silk screen printing," is an excellent method for creating vibrant designs (by using ink, a mesh screen, and a squeegee) on a wide range of commercial clothing products such as T-shirts, sweatshirts, shoes, and baseball hats. According to Statista, garments and other fabric items (excluding labels) comprised the largest share of screen printing manufacturing in the United States (49%) as of 2016.
However, not all fabrics are compatible with the screen printing process. By learning about the specific characteristics of each major type of fabric, including the benefits and disadvantages of each one, you can better understand which materials are ideal for producing screen-printed designs such as branded logos. Here is a closer look at this subject.
Top Fabrics for Screen Printing
Both natural and synthetic fabrics are great for creating screen-printed designs. Here are three natural (e.g., animal and plant-based) fabrics that work extremely well with screen printing.
Natural Fabrics
Cotton
Cotton is one of the most common fabrics for clothes and is perfect for screen printing because it absorbs colors well. It's also affordable, heat-resistant, and static-resistant. However, cotton products often tend to shrink and get easily wrinkled. They also dry slowly and aren't great at eliminating moisture.
Silk
Silk is great for screen printing because it's extremely smooth. Therefore, there is relatively less risk of ending up with an uneven design compared to other fabrics. However, silk doesn't absorb colors well, which translates to a muted, pastel look for screen-printed silk designs. Although it's extremely stain-resistant, silk is also expensive and often degrades over time.
Wool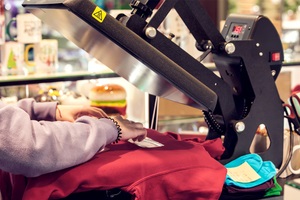 Wool is much thicker than other fabrics and absorbs colors well. However, it can often be difficult to ensure the ink used in screen printing (typically plastisol or water-based ink) is evenly absorbed into every inch of a wool item. Moisture and heat also often cause wool to felt. Additionally, keep in mind that water-based inks have fabric limitations, a shelf life, and offer less color accuracy.
Natural fabrics such as linen (which is extremely eco-friendly but expensive) and hemp are also excellent for creating designs via screen printing.
Natural and Synthetic Blends
Synthetic fabrics are man-made and include, for example, polyester and nylon. Many clothing products today combine natural and synthetic fibers as a way to offset the drawbacks of each of these two types of fabric. Items such as T-shirts and sweatshirts made from a combination of synthetic and natural fabric are ideal for screen printing because they absorb colors well, last long, are shrink-resistant and are comfortable for the consumer (e.g., there's no need to worry about perspiration).
Fabrics to Avoid for Screen Printing
Although you can technically use screen printing to create designs on almost any fabric, there are certain materials you should avoid, especially if you're new to this printing method. Specifically, it's recommended that you don't screen print designs on clothes made from 100% synthetic blends such as:
Polyester: As previously mentioned, polyester doesn't absorb colors well.
Spandex and Lycra: Although spandex and Lycraa are lightweight, durable, sweat-resistant, and have excellent elasticity, they're also sensitive to heat and easily stick to the body.
Novelty fabrics (e.g., faux fur): These fabrics aren't appropriate for screen printing because they're often exceedingly textured, which means the surface isn't smooth.
Other common examples of synthetic fabrics to avoid for screen printing include acrylic, rayon, and acetate. Generally, these fabrics are heat-sensitive and/or tend to easily shrink. If you're a screen-printing beginner and have doubts about which fabric to use, be sure to speak to an experienced professional who can offer recommendations.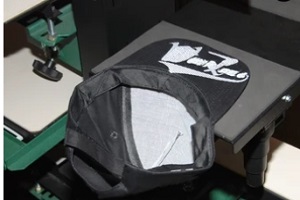 Regardless of the type of ink you use or whether you're using a manual or automatic press, the type of fabric you choose to print on can ultimately be the difference between a high-quality or low-quality design. Screen printing is great for creating durable designs and is also extremely cost-effective for large orders, so it's an ideal option if you need to create a high volume of prints for garments for an event such as a party or fundraiser.
Get High-Quality Screen Printing Services from PGI
Contact the experts at Professional Graphics Inc. to learn more about the best fabrics for screen printing. We're a full-service commercial printing company in Norwalk, Connecticut that has been dedicated to providing efficient and high-quality printing services and products to clients since 1979. We use advanced tools and technology to deliver printing services within your desired time frame and budget.
Screen printing is a complex process that involves several steps, and our team can help guide you through it. No matter what types of designs you plan to create, the ink you wish to use, or the volume of prints you need, we can offer expert recommendations on which fabrics you should print on. Call Professional Graphics Inc. today at (203) 439-6120 or contact us online for more information about our screen printing services.