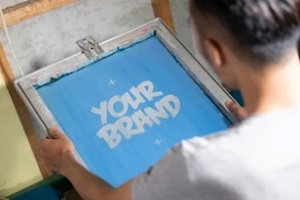 Screen printing, also called "silk screen printing" or "serigraphy," is a contemporary printing process that involves ink being pushed through a screen known as a mesh stencil onto a surface to create a design. The surface can be made of glass, plastic, metal, or wood, and a squeegee is also typically used in screen printing.
Screen printing was invented in China during the Song Dynasty (between 960 and 1279 AD). Originally, the stencils used were made of paper and brushes were used to press the ink through the screen. Today, much more advanced technology (such as automatic presses) are used for screen printing.
With this method, each aspect of a design requires its own screen. Once you've set up the screen, you can apply each color of your design layer by layer. You can use screen printing to create both traditional artwork and custom products, such as clothing. As effective and beneficial as screen printing is, it only makes sense to use it in certain specific cases. Here is a closer look at when to use screen printing.
Four Ways To Employ Screen Printing
There are four notable scenarios where screen printing services are the most sensible option. Here are four ways to employ screen printing:
Single-Color Designs
If you want to create simple designs with just one color (e.g., short text or logos), screen printing is an excellent choice. If you're seeking photographic accuracy, this is not the method you should choose. Also keep in mind that although vivid colors are relatively easy to create via screen printing, shades and gradients may be more difficult to form.
You're Using Different Substrates
Screen printing is a great technique to use if you're utilizing more than one type of surface. Whether you choose to print on wood, metal, or plastic, screen printing can be performed on any of these substrates to form designs on canvases, T-shirts, and other commercial products.
You're Printing In High Volumes
If you're printing a large number of designs, screen printing services are undoubtedly your best option. Given that there are more steps in screen printing than there are in other printing processes, setup generally takes longer for each color you add. Nevertheless, you can ultimately save time and labor costs after a certain number of prints.
For example, screen printing may make the most sense if you need to print designs for a big event, such as a festival or a wedding. Designs made via screen printing are also typically durable, so you don't have to worry about colors fading after a short period of time. It may also be a good idea to not leave any designs you create exposed to direct sunlight for too long, however, as fading can eventually occur in these cases.
You Wish To Create Designs Quickly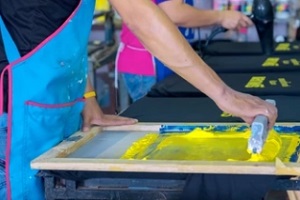 Screen printing is also the ideal printing technique for fast production. If you use an automatic press, you can get your prints in just a matter of seconds. However, this type of press typically represents a significant investment, so check prices before purchasing one.
Also, keep in mind that if you want to use automatic printing, it's highly recommended that you use other basic equipment such as flashes, a high-quality air compressor, a conveyor dryer (so that you can cure the ink), air lines, electrical drops, and software for managing your prints.
In any other scenario, it's best to use other types of printing services, such as direct-to-garment (DTG) printing. This method involves spraying ink onto the article of clothing or other commercial product on which you want to create a design. With DTG printing, the ink is absorbed into the garment. However, if you don't want the ink you use to become fully soaked into your product, it's best to choose screen printing.
Get High-Quality Screen Printing Services From PGI
Speak to the professionals at Professional Graphics Inc. to learn more about when to use screen printing services. We're a full-service commercial printing company based in Norwalk, Connecticut that has been dedicated to providing high-quality services since 1979. Our team uses advanced processes and equipment to deliver designs efficiently, regardless of what your needs and budget are. Call PGI today at (203) 347-0215 or contact us online for more information about our screen printing services.