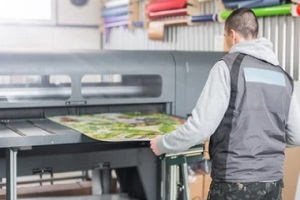 In 2020, the commercial printing market was valued at $412 billion, and it is projected to be $472 billion by 2026. The rise of technological advances and increased demand for creative applications are helping drive this industry to new heights.
Large format printing is an example of one of the most widely used methods of commercial printing because it can be an incredibly useful tool for business owners who want to spice up their advertising strategy and deploy some larger-than-life advertisements to catch people's eye. More and more businesses are turning to large format printing to help them expand their reach and expose new customers to their brand.
Large Format Printing Benefits
The creative possibilities and real benefits of this form of commercial printing are only beginning to be realized. These are the top benefits that large format printing can provide for your company.
High-Impact Advertising
When it comes to drawing attention to your company, bigger is always better. The bigger your message, slogan, banner, poster, or billboard, the more people are going to see and talk about it. Modern large format printing techniques that are used by commercial printing companies can help you create crisp, clear, and effective advertising materials that will demonstrate your brand to the public.
When backed by a solid strategy and execution, large format printed materials can help to increase brand awareness and provide critical information regarding your business's products or services. These pieces can help to draw people to your location or direct them to your online store.
On-Demand Printing
Many large format printers utilize the same techniques that digital printers use, which enables a speedy, on-demand large format printing process. Traditional offset printing methods are much more restrictive, and commercial printing companies are now offering large and wide format printing with the speed and modern efficiency of digital printing techniques.
Additionally, with modern advances you can now print exactly the amount you need, helping to reduce costs and the unnecessary production of materials.
Environmentally Conscious
Modern times call for an environmentally conscious approach to production. New large format printing techniques help to minimize the waste produced by the printing process and remove the need to print in bulk all the time. Large format printing with commercial printing companies allows you to print just what you need and minimize your environmental footprint.
Durability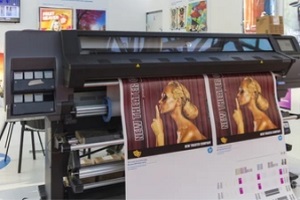 With large format printing, you never have to worry about your product becoming easily weathered as the products created by this method are specifically designed with durability in mind. This allows your creation to go long stretches of time outside and withstand damage.
The products created by large format printers can last weeks and even months at a time out in the elements. This durability is especially useful for graphics that are transported often as they tend to take the most wear and tear from debris and people touching them.
Why Your Business Needs Large Format Printing Capabilities
While in-house techniques can provide some fun and unique marketing materials, the demand and competitive nature of the modern business world requires more value. Commercial printing companies can help give any company the capability to produce the most professional and effective marketing materials at a fraction of the cost and time of developing the same process in-house.
Your marketing materials need to make a lasting impression on your customers without sacrificing quality when it comes to the material that helps demonstrate your value to customers. While many businesses are still employing the old-fashioned printing practices, large format commercial printing is now the more affordable, efficient, and profitable way to execute large format marketing materials.
Work With A Commercial Printing Company
The printing process is not as easy as it may seem, and the professional assistance of commercial printing experts can help you save a lot of time and money. This frees up your business to focus on improving value and the customer experience.
Professional Graphics Inc. is a full-service commercial printing company that specializes in taking the worry out of the printing process for businesses. Their team consists of printing experts that can guide you through the printing process and help you save time and money. Reach out to them online or at (203) 439-6120.