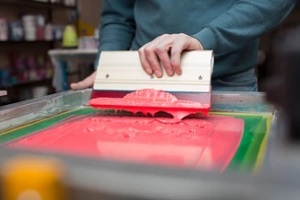 Every print requires a high-quality, detailed stencil, as this is one of the main aspects of any design. In order to create this stencil, an emulsion is necessary. This substance is often used in screen printing, which is also called silk screen printing and involves the use of a mesh screen to press ink onto a surface or "substrate" made of paper, plastic, wood, or glass. This printing method can be used to create many different types of designs for textiles, fabrics, artwork, and other commercial products. First, let's begin by defining "emulsion."
In screen printing, an emulsion is a liquid substance that is typically sensitive to light and that generates an ink-resistant frame around a design. An emulsion can also come in the form of sheets (capillary film). Given its sensitivity to light, emulsion should only be applied under ultraviolet (UV) light or in a dark room. However, before you begin the printing process, be sure to degrease and scrape away any unwanted materials off your screen so that the emulsion can stick to the mesh more firmly.
Top 5 Types Of Emulsion For Screen Printing
There are several distinct types of emulsion you can opt to use for screen printing. The best emulsion depends on multiple factors, such as your chosen light source (e.g., LED vs. fluorescent tubes), ink type (water-based vs. plastisol), length of job run, and printing type (automatic vs. manual). You can also choose from different colors for your emulsion, including clear, red, green, and blue. If you're new to screen printing, it's recommended that you use a clear-colored emulsion so that you can easily see through your screen.
Here are the five emulsion types most commonly used in screen printing:
1. Capillary Film
Also called "direct film," capillary film has a specific thickness that provides great definition and resolution. This type of emulsion is relatively easy to use and is perfect for long screen printing runs and/or if you prefer not to use a liquid substance (to minimize mess). However, capillary film isn't as durable as a direct emulsion.
2. Water-resistant Emulsion
If you choose to use water-based or discharged ink for screen printing, you'll need water-resistant emulsion. This type of emulsion will help your designs last longer (e.g., stay crisp over time). Examples of water-resistant emulsion include TRIFECTA, LX-892, QLT, QT-DISCHARGE, LX-660, and DLX. These emulsions have varying levels of water resistance.
3. Dual-cure Emulsion
Dual-cure emulsion utilizes a sensitizer to offer higher-quality stencil imaging and better strength. It also has wide latitude and is thus ideal for printing designs for products such as T-shirts. If you're using fluorescent tubes or LED lights, a dual-cure emulsion is also the best option to choose. Additionally, dual-cure emulsions' high solid content helps designs dry quicker and contribute toward a lower emulsion over mesh (EOM) ratio. This percentage represents the proportion of emulsion thickness on the substrate side of your mesh and should ideally be between 10 and 20%, according to most manufacturers.
4. Photopolymer Emulsion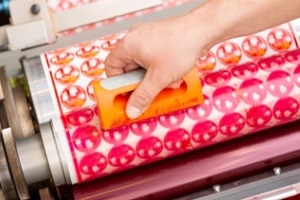 This type of emulsion is premixed and can be used straight out of a bucket. Photopolymer emulsion has a more narrow exposure latitude and typically leads to a high EOM ratio. Make sure to use an LED exposure unit with a vacuum top for the best results. Keep in mind, however, that photopolymer emulsion can easily freeze, so be sure to buy enough and adequately store this during the wintertime.
5. Diazo Emulsion
Diazo emulsion is abrasion-resistant and can be mixed with any solvent-based ink (e.g., water-based or plastisol inks). It's also more affordable than other emulsion types (you can find it for as low as $1.04/fl. oz), although this entails that its solids-to-liquid ratio is lower than that of other emulsion choices such as photopolymer and dual-cure emulsion. Also, keep in mind that you have to sensitize diazo emulsion before using it.
These are the most commonly used emulsions types used for screen printing. Be sure to follow the correct processes for preparing and cleaning your substrate, applying the ink and emulsion, and printing your designs on fabric, textiles, canvases, or other items. If you're new to screen printing, it may be a good idea to seek advice from an experienced professional.
Get High-Quality Emulsion For Screen Printing From PGI
Contact the experts at Professional Graphics Inc. to learn more about the different types of emulsion you can use for screen printing. We're a full-service commercial printing company based in Norwalk, Connecticut that has been dedicated to providing clients with high-quality and efficient services since 1979. We use advanced technology and other equipment to deliver unique designs within your budget and deadline.
Regardless of the types of screen-printed designs you wish to create, our team will help you choose an emulsion that best fits your budget, needs, and goals. At PGI, we understand that emulsion hardens when exposed to strong lighting and that it's key to creating stencils for designs during the screen preparation stage. Call Professional Graphics Inc. today at (203) 347-0215 or contact us online to learn more about our affordable commercial screen printing services.