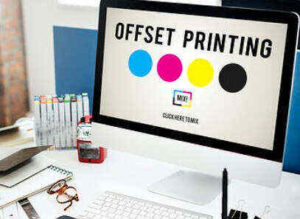 There are several types of commercial printing that business owners can benefit from to print their sales or marketing materials. One especially popular commercial printing method is offset printing. Here is a close look at what this process entails.
What Is Offset Printing And How Does It Work?
Offset printing, which is also known as offset lithography, involves placing artwork (images and text) on metal plates. To dampen these plates, oil-based ink and water are added to rollers on the press. The basic idea behind offset printing is that water and ink can't mix.
After the ink adheres to the space that contains the image, this inked region is transferred onto a rubber "blanket" cylinder and then onto the paper. This is where the process gets its name from: the image is "offset" because it is transferred to another surface as an intermediary.
Polyester and aluminum can also be used for offset printing, with the latter material often yielding optimal results.
Once the inking process is complete, the paper is mildly wet. You can avoid smudging the ink by allowing the paper to pass through an oven that is set to a temperature between 350° F and 400° F. The metal rollers that the paper is subsequently run through have cold water flowing throughout them.
Offset printing was first developed in Germany in the late 18th century and is perfect for large-scale productions of items such as brochures, magazines, manuals and books. Offset printing is also different from flexography, which involves using a flexible printing plate to create materials such as corrugated cardboard, folding cartons, and metallic films.
Different Types of Offset Printing
There are three main types of offset lithography: sheet-fed, web, and quick set. Web offset printing involves the continuous feeding of paper into a presser and then cutting and separating the sheets. This method is ideal for large volumes of printed materials. (Web presses can reach speeds of up to 50,000 impressions per hour.)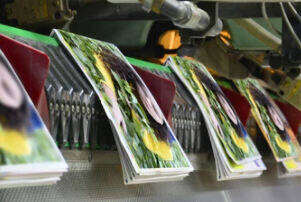 Web printing also features a process called registration, which refers to the alignment of the plates while they apply their respective color portions. Meanwhile, sheet-fed offset printing presses produce individual pages, which range from "full-size" (i.e., 28" x 40") to half-size and quarter-size sheets. In addition to paper, sheet-fed printing can be performed on metal and plastic substrates (surfaces).
Finally, quick-set offset printing presses produce high-quality images such as periodicals, instruction manuals, and trademarks. The drying process with quick-set machines is typically slow, although this allows the machine to save ink.
Benefits of Offset Printing
There are several benefits to using commercial offset printing. The main benefits include:
Low price per item: The more materials you print, the less you pay for each one as the majority of costs are allocated to set up.
Excellent quality: Offset lithography yields bright colors and elegant finishes for images and text.
Fast and efficient: Web offset printing is incredibly efficient but does not sacrifice quality.
Additionally, offset printing sometimes uses pre-mixed inks in specific colors called "spot colors" to produce hues beyond the traditional color range of regular printers. Thus, the level of color control that offset lithography provides is greater than other forms of printing.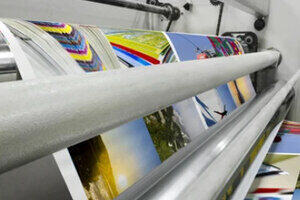 Inkjet desktop printers and offset printing presses both utilize four basic ink colors: cyan (blue), magenta, yellow, and black (CMYK). If your artwork features the RBG (red, blue, green) color model, you will need to convert it to CMYK.
In web printing, before the plates are placed on top of the press, they are scanned and the information they contain is moved to a micro-cassette.
After the printing process is finalized, the binding and finishing services can begin. Pages can be adjoined by using glue or staples, and then a stitcher machine (which contains knives) cuts the paper to the desired size. The resulting product is then ready to be shipped to any destination.
Get Offset Printing Services With Professional Graphics Inc.
Reach out to the experts at Professional Graphics Inc. to receive high-quality offset printing services. Since 1979, we have been dedicated to providing complete commercial printing at competitive rates.
We can use offset printing to print large volumes of materials such as brochures, envelopes, pocket folders, and pamphlets.
Regardless of your business's needs and goals, we always deliver our work on time and according to your budget and use modern technology and creative solutions to do so. Call Professional Graphics Inc. today at (203) 347-0215 or contact us online to request an appointment.